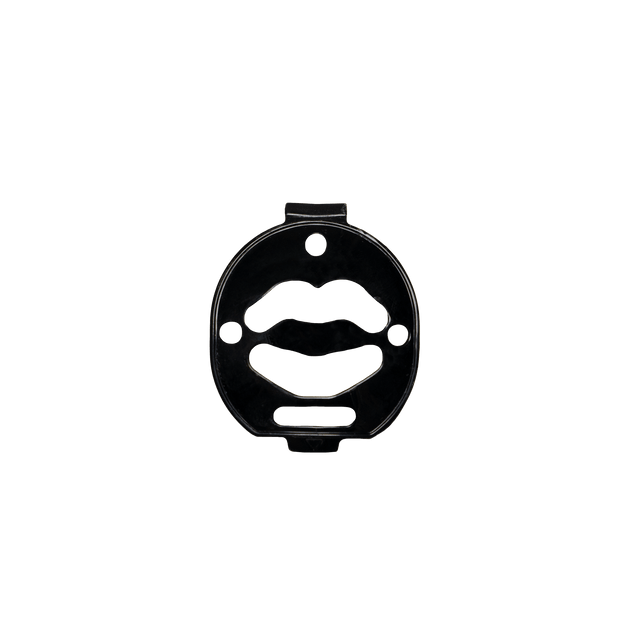 A big old smooch is in order for whoever got you this stencil!
How BallTrace works
quick - stylish - consistent
NOW AVAILABLE! BESPOKE LASER CUT STENCILS
Get the ultimate in personalised play!
Special Offer
Shipping Info
UK: Royal Mail 48
Orders over £18.99: FREE | over £14.99: £1.99 | under £14.99: £3.99

UK: Royal Mail 24
Orders over £24.99: FREE. Standard: £2.99
International: DHL Tracked GlobalMail
EU: 3-6 days
N America, Asia, Australia: 6-10 days
Orders over £28.99: FREE.
Orders over £14.99: £2.99.
Orders under £14.98: £5.99.
DHL Express: See Shipping Policy for full details
Environmental Impact
Because it's plastic, because we care.
BallTrace is made using recycled plastics, but we know that that's not enough.
Trust us, we tried every other option. But the only way to make BallTrace durable enough for tennis, and strong enough that it wouldn't need to be replaced, was to use plastic. However that doesn't mean we're not doing anything about it.
For every single item we sell from BallTrace, whether there's plastic in it or not, we're donating 1% of our annual profits via Work for Good to each of the charities below that help offset the environmental impact of plastic use:
It was large enough and loud enough to head the campaign that saw the UK become the first major economy to set a legally binding net zero emissions target.

Cool Earth

gives cash directly to the indigenous people and local communities who tackle the root causes of deforestation.

Rainforests are the best carbon-storing technology on the planet, so maintaining them is important in an increasingly carbon world.

Surfers Against Sewage

is a direct-action group that actively walks, rides, and swims the UK's  beaches – collecting single-use plastic that washes up on shore. 

Left alone, it would find its way back to the sea and the cycle would repeat indefinitely.
Let customers speak for us
Great Gift
I gave balltrace as a gift to our 9yr old for his birthday and he absolutely loves it! He got straight onto marking his tennis balls as soon as he opened it!
My godson loved this for his birthday present :)
My godson loved this for his birthday present :)
Practical idea for tennis players
A fun idea for tennis players who keep losing balls. Easy to find your balls on court and a great talking point
Unusual fun gift for tennis player
Easy to identify my balls
Really useful ball marker
Daughter loves it!
Bought as a gift for my daughter who loves cats and tennis. She loves the paw print and the star! Great idea!
Wonderful
Love paw print, strong product
Amazing quality
Great product very simple easy to use 🙂
Creates a great image and you won't be loosing your tennis balls now!! Definitely worth purchasing
Fantastic
Gr8! Many people asked me where I got this!
Neat tidy image
Impressed. Creates a great looking image very quickly.
Ball Marking Kit to mark your tennis balls.
My partner tested this item. This is his review. My partner and I have been playing tennis for a few months now. We have found that with the neighbouring tennis court, balls happily go astray between the two courts with a mini disruption with our fellow neighbours (both ways). Overall, a nice little kit. I think this would be an ideal gift to give to a tennis playing enthusiast.
Good idea well designed and developed
This is a game changer. No longer do my tennis balls disappear into others' bags. And the question of "what balls are you playing" no longer rings out between courts. Niggling issues are taken care of!
Genius
I really love the stencil packs. Makes tracking balls so much easier (especially when playing on public courts). Got several as gifts. Pens don't last as long as you'd like (mine ran out after marking four balls).
Great gift
Fabulous gift for tennis friend.
Produces very professional marked tennis ball.
Super service too.
I will be ordering one myself.
Great idea
My son loves this! What a greeat way to make tennis even more fun
Product Info & FAQ's
BallTrace is a world first, patent pending invention so we expect questions!
Here are some of the most common...
What are the little holes for in the stencils?
To protect your precious freshies!
Use the top hole for balls in the first tube you open, then work your way around as you open new ones. You'll always know which are newest and have the best bounce!
 The A-Z Collection have slots at 6 o'clock, rather than a hole. That's so you can tell your M's from your W's and your N's from your Z's in the heat of battle!
Can I buy spare pens?
Absolutely! Your BallTrace comes with a pack of three pens so you'll be a while before you need them but when the time comes you can get replacement pens here.
What's the best way to mark the balls?
Around the edges first, maintaining straight lines off any angles. Then colour in if you like!
How long does the mark last?
As long as the ball! BallTrace ink is waterproof and very long lasting. Inevitably well used balls fluff up which might cause the edges of designs to become less clear. Some customers say this is when a ball is past it's best but if you want to play on it's easy to re-mark.
1% of our annual profits from the sale of all of our products are donated to each of our three nominated environmental charities via Work for Good.
Quick | Stylish | Consistent